The Mobile Grab & Go Station from Forbes Industries provides an elegant way to display individually packaged hot and cold food items. It features two fully insulated compartments on each end eliminating the need for electricity which allows you to set it up where you want, when you want.
Learn more about Grab & Go
Grab & Go Stations
Forbes Industries has designed the building blocks for serving food at your restaurant or hotel by utilizing an arrangement of mobile tables, rolling displays, and clear acrylic shields.
Products Featured
Claremont 3 Nesting Tables
Countertop
Safety Shield
The Classic Rolling Display
Steel Flipchart
Find out more
HEALTH AND SAFETY SOLUTIONS BY FORBES
SAFETY TOUCH
ANTIMICROBIAL COPPER FILM
Easy to apply and remove.
Helps kill bacteria and viruses.
Get a quote
INDUSTRY APPLICATIONS
Door Handles
Keypads
Phone Handles
Thermostats and more
TABLES
Meetings
and Events
Lightweight, portable, durable,
View all Tables
Mixology Carts
In collaboration with
Chris Adams
Elevate your guest experience
and bring the show to them
View all carts
HEALTH AND SAFETY SOLUTIONS
Outdoor Dining
Solution
Create a safe dining experience anywhere
View all products
The Curbside Comeback
HEALTH AND SAFETY SOLUTIONS
Peace of mind
without feeling confined
Mobile, portable, and countertop clear acrylic shields
View all shields
HEALTH AND SAFETY SOLUTIONS
Prevent Cross Contamination
STEP 1
SanGen Cart
STEP 2
ReGen Cart
Two-Cart Housekeeping Solution
View the carts
HEALTH AND SAFETY SOLUTIONS BY FORBES
Non-Porous Luxury Vinyl Tile
Help reduce the spread of COVID-19
Ebony
Aged
Redwood
Bracken
French Oak
Vintage Pine
Country Oak
Get a quote
Mobile Partitions
Divide the room
Guide your guests
Conceal unsightly back of house
or simply decorate your spaces.
Find out more
Versatile mobile shelving units that can be used as food display, back bar, literature stand, accent piece, or anything in between
View all products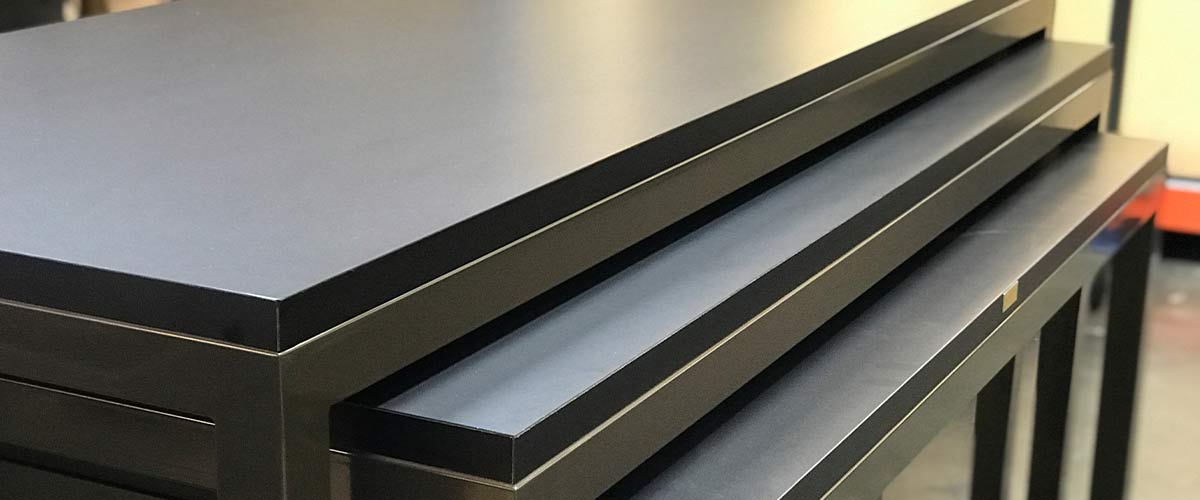 View all nesting tables
Mobile Bars
Acrylic Floor Shields
Podiums
In-Room Dining Tables
Catering Tables
Service Carts
ALL ITEMS IN STOCK AND READY TO SHIP
Need it in a hurry?
Shop For In Stock Items!
Shop a selection of our in stock items now available and ready to ship! Some of our in stock items include acrylic shields, hand sanitizer dispensers and refills, antimicrobial film and much more!
Available Products
Countertop
Safety Shield
Stanchion Systesms
Visit our in stock shop
Forbes Industries Helps Solve Operational Challenges Through…
Mobility
Our products are equipped with casters and bumpers to make it a breeze to move into position.
Functionality
Forbes solutions are the result of form meets function. Reliable products backed with confidence.
Design
Beautifully designed with a wide range of finish options and materials to match any décor.
Food & Beverage
Our products are designed to be highly mobile and save you on storage space. With a wide variety of finish options and materials, you can be sure to find a product that will fit your restaurant or hotels décor.
Hospitality
Forbes Industries is best known for our world renowned Birdcage Luggage Cart. It's often imitated but never replicated. We offer a wide array of hospitality products including our housekeeping carts, luggage racks, and specialty carts.
Avendra Approved Contract Supplier
Forbes Industries is a proud contract supplier for the Avendra Hotel Procurement and Hospitality Supplier
Forbes Industries Quality Guaranteed
Forbes Industries proudly manufactures products right here in the United States of America using domestic and global parts. Our quality and service is unmatched.
Leading Manufacturer in Food and Beverage and Hospitality Products
Forbes Industries is the world's leading manufacturer of Hospitality and Food and Beverage products since 1919. World renowned for the timeless icon of high quality hospitality: The Birdcage Cart. Forbes Industries has since focused itself on solving restaurants and banquet hall operational challenges through long lasting, storage saving, and mobile products.
Be the first to know about future Forbes products
Sign up to our email list and be the first to know about the latest in Food & Beverage and Hospitality solutions.